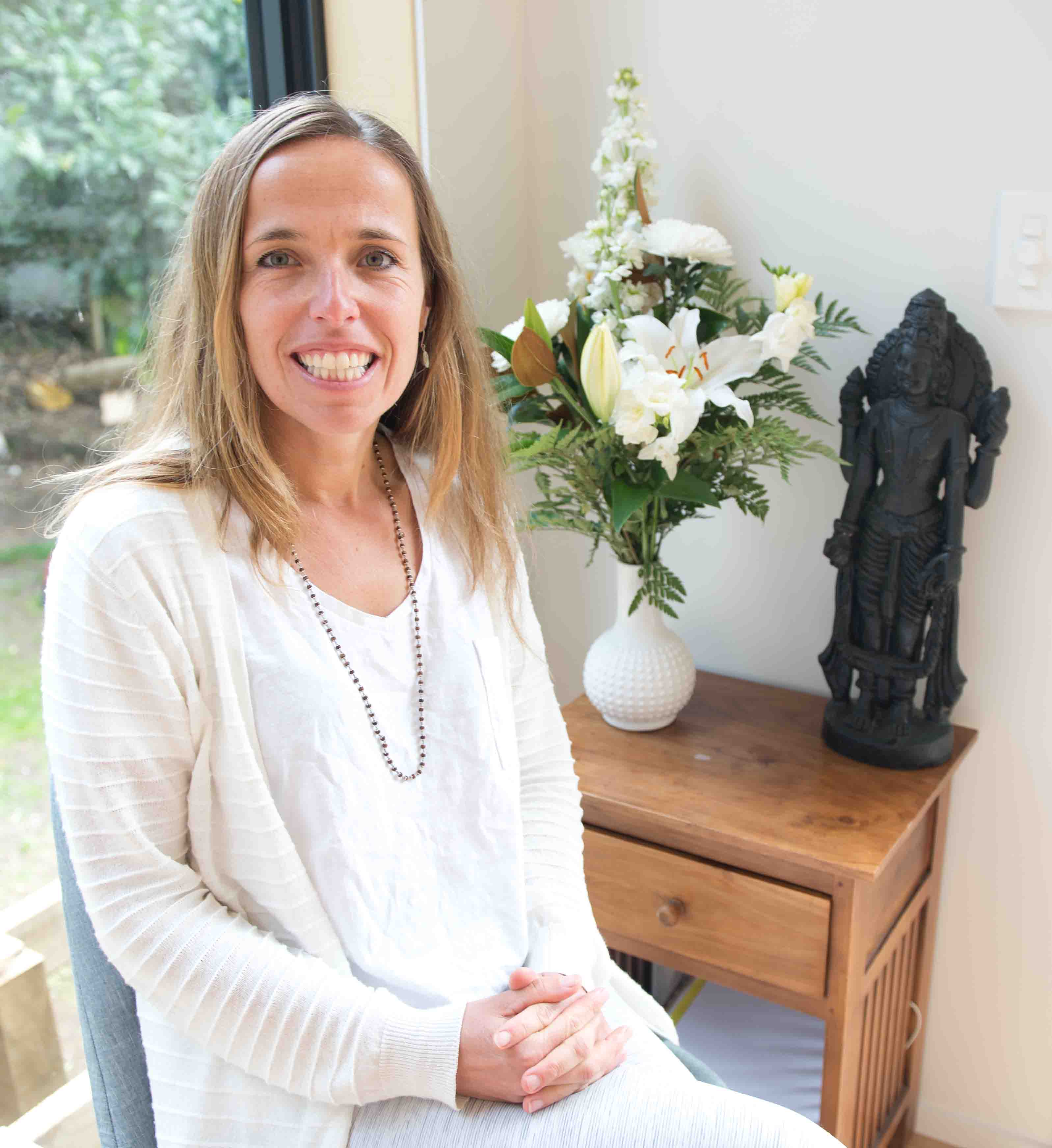 Anja Foley
Anja, the owner and founder of Ayurveda Wellness Centre, is an experienced Ayurveda Consultant and an accredited Yoga Teacher.
Originally from Germany, Anja settled in New Zealand 21 years ago. During several journeys to India, Nepal, South East Asia, the Pacific, Europe and Central America, Anja discovered her passion for Ayurveda and her dream to create and welcome people to her own place of healing.
Anja was first introduced to Ayurveda in 2004 by Dr Liladhar Gupta, an inspiring Ayurvedic doctor from Vrindavan, India. In 2006 Anja commenced her initial Ayurveda studies in Auckland with Dr Ajit at the Australasian Institute of Ayurvedic Studies. She then opened her current private practice in 2010. After five years of clinical experience, Anja went overseas in 2015 to study for a Masters of Science in Ayurvedic Medicine through the Middlesex University of London and the European Academy of Ayurveda in Germany.
She practices what she teaches in her daily life and enjoys helping people to take care of their own wellbeing. When Anja is not teaching yoga or working in her clinic, she enjoys the great outdoors: mountain biking, rock climbing and skiing are her favourite past times. Anja lives with her husband and two sons on the Kāpiti Coast.
Education and Qualifications:
June 2021  Yoga Therapy module 3, ten day training, taught by Dr Kausthub Desikachar and Ruth Diggins, held in Raumati, New Zealand
 Jan 2021  Yoga Therapy module 2, ten day training, taught by Dr Kausthub Desikachar and Ruth Diggins, held in Raumati, New Zealand
Jan 2020  Yoga Therapy module 1, ten day training, taught by Dr Kausthub Desikachar from KHYF Chennai India, held in Raumati, New Zealand
Jun 2018  & Sept 2019 Introduction to Yoga Therapy, two weekend seminars presented by Dr Kausthub Desikachar from KHYF Chennai India, held in Raumati, New Zealand
Feb 2016    'Ayurvedic nutrition and food related illnesses' a 2 week block course at Tilak Ayurveda College in Pune, India
Dec 2015    three week work placement at J.S. Patel Ayurveda hospital in Nadiad, India
Jun – July 2015   three week work placement at an Ayurvedic Retreat Centre, Rosenberg Ayurveda Gesundheits- und Kurzentrum, Birstein, Germany
Apr 2015  – present    Masters of Science in Ayurvedic Medicine through the Middlesex University of London and the European Academy of Ayurveda in Birstein, Germany, Master thesis with a focus on Ayurveda and Mental Health
May -Jun 2014    a five week yoga immersion in Vinyasa Yoga troughout Bali and Lombok
Mar 2010- Mar 2015     fortnightly attendance at nutrition and cooking classes, in depth study of all the whole grains, cheese making, herbs, oils and fats, beans and legumes, vitamins and much more, taught by Debbie Ter Borg and inspired by Rudolf Steiner and Rudolf Hauschka, Te Ra Waldorf School, Raumati South, New Zealand
Dec 2011    The Apex of Yoga, Patanjali's Yoga Sutra Chapter 3 workshop,  presented by Kausthub Desikachar from KHYF Chennai India, held in Wellington, New Zealand
Sept 2011    Rongoa Maori, Traditional Maori Medicine, foundational knowledge of Rongoa Maori through understanding origins and types of Rongoa Maori, the purpose and role of Rongoa in Te Ao Maori; cultural practices, traditional and contemporary Rongoa practices; identification, classification and properties of flora used in Rongoa Maori and associated safety practices
May 2010    3 week intensive study course of herbs, herbal manufacturing and herbal remedies, ACE, Amanda Reid, Paraparaumu, New Zealand
Oct 2009    The Apex of Yoga, Patanjali's Yoga Sutra Chapter 2 workshop,  presented by Kausthub Desikachar from KHYF Chennai India, held in Wellington, New Zealand
Apr 2009    Attended the 2nd International Yoga and Ayurveda Conference, Sydney, Australia, organised by Ayurveda Yoga Australia
Jan 2008    Four week Study Trip to India, Ayurveda Immersion with Dr Liladhar Gupta, Dhanvantari Dham Clinic, Vrindavan, Uttar Pradesh, India
Feb 2008 – Nov 2010    Yoga Teacher Training Certificate, Yoga In Daily Life, Wellington, New Zealand
Mar 2008    Prenatal Yoga Teacher Training Certificate, Yoga In Daily Life, Wellington, New Zealand
Oct 2007    The Apex of Yoga, Patanjali's Yoga Sutra Chapter 1 workshop,  presented by Kausthub Desikachar from KHYF Chennai India, held in Wellington, New Zealand
Oct 2007    Kids Yoga Teacher Training Certificate, Yoga In Daily Life, Wellington, New Zealand
Apr 2006 – Mar 2020    Annual attendance at Vishwaguru Mahamandaleshwar Paramhans Sri Swami Maheshwarananda's yoga seminars, talks and retreats in New Zealand, Fiji, Australia, India and Czech Republic
Feb 2006 – Aug 2010    Diploma Course as Clinical Ayurvedic Lifestyle Consultant, Australasian Institute of Ayurvedic Studies Studies, Auckland, New Zealand
May 2004    Advanced Practitioner Level 2, Traditional Thai Yoga Massage, Sunshine Network Institute, Rotorua, New Zealand
Mar 2004 – Oct 2016    Annual attendance at Dr Liliadhar Gupta's Ayurveda seminars, talks and retreats, 4th generation Ayurvedic Doctor from Vrindavan, India, programmes held in Wellington and Kapiti, New Zealand
June 2003    Practitioner Level 1, Traditional Thai Yoga Massage, Sunshine Network Institute, Chiang Mai, Thailand
Sept 1998 – Apr 2003    University of Applied Sciences, Stralsund, Germany, Bachelor of Business Studies with first class Honours, Major: Marketing and Tourism